Leave your canine friend with us when you are away! Our dog kennels have the right size space for your pet. Want more room for your pet? Consider our Canine Cabana Suites.
Please note we strive to honor requests for larger kennel spaces for your pet (at the larger accommodation's nightly rate); however, during peak times such as holidays when the kennels are at capacity, we can not reserve or guarantee a larger space for your pet. If your pet needs a larger space, please consider reserving one of our Canine Cabana Suites which are available on a first-come, first-serve reservation basis.
Canine Cabana Suites
Provide your canine friend with extra room and luxury in our Cabana Suites. Each suite measures approximately 5 ft x 6 ft and has clear front door panels, tile wainscoating and a fleece-covered Kuranda bed.
These suites accommodate dogs of all sizes.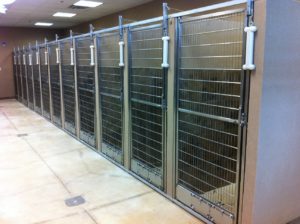 Canine Runs
Our runs measure approximately 3 ft x 6 ft and are decorated with tile wainscoating and have a resting bench.
If you would like your pet to have a larger space, consider booking adjoining runs which have a pass-through door for an approximate space of 3 ft x 12 ft.
The runs accommodate dogs over 60 lbs. For giant breeds such as Great Danes and Mastiffs, we recommend booking a Cabana Suite for maximum comfort.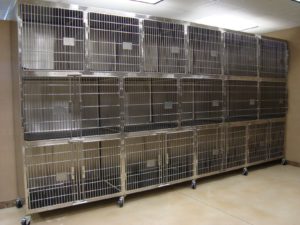 Cages: Extra-Large/Large/Medium
Extra-Large Cages measure 48″W x 30″H x 27″D. These accommodate dogs 40-60 lbs.
Large Cages measure 36″W x 30″H x 27″D. These accommodate dogs 20-40 lbs.
Medium Cages measure 30″W x 30″H x 27″D. These accommodate dogs up to 20 lbs.
Enclosed Outdoor Yard
Dogs are let out into our enclosed grassy area for potty time and to get some fresh air and space to run around for a little exercise.